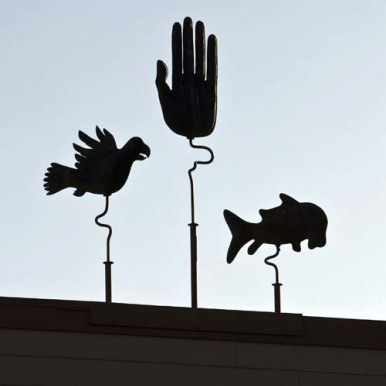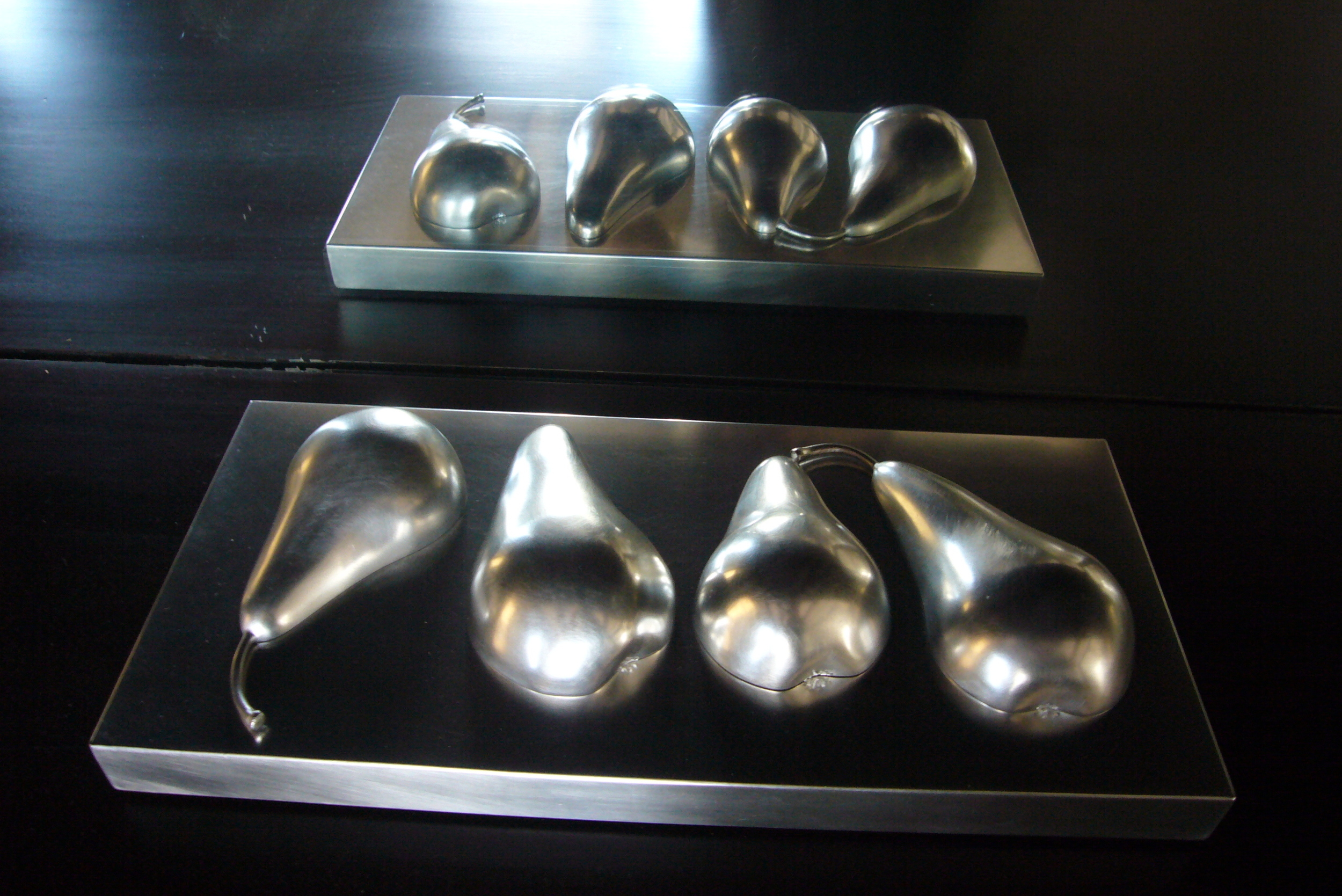 Narcissus
2003
copper, brass and old glass bottles; wood shelf with glass and nickel-plated copper mirror
10.75" ht. x 24" x 10"
A Woman of Unknown Etiology - DETAIL
The Effects of Good Chemistry, Shelf II
1994
copper vessels, wood shelf
shelf size: 15.5 x 40 x 11"
Six Characters in Search of An Author
1999
copper and brass characters; wood shelf
shelf size: 36 x 9.5 x 15.5"
The Bottle is Half Empty
2003
copper bottles; wood shelf
18" ht. x 16 x 7"
gli sposi (ode to modigliani)
2007
copper, wood shelf
13.25"h x 12.5"w x 7.5"d
Portrait of the Artist
2003
copper vessel, wood frame
17.75" x 12.25" x 5"
 
Tools for Transmutation, Shelf VII
1997
copper, brass alchemy pots, wood shelf
shelf size: 36"l x 19.25"h x 9"d
Ode to Morandi (II)
2007
copper, brass, wood shelf
shelf size: 15.5 x 25 x 11"
If Time Were an Object (Pisa)
1997
steel cabinet with old mirror; brown glass bottles, copper and brass bottles
cabinet size: 21.5 x 5.75 x 24.75"
geometry of chemistry
2007
copper, wood base
9"h x 19.5"w x 7.5"d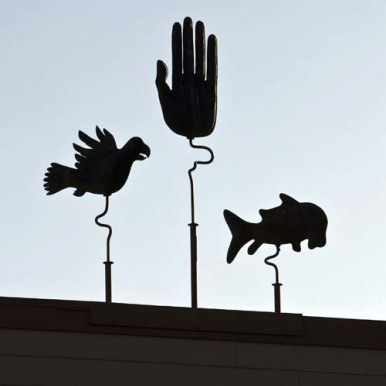 Weather Vanes, Gov. Nelson State Park, Madison, WI
Installed 1991
by Martha Glowacki, Lynn Whitford
Photo Wisconsin Arts Board Percent for Art Program
Fruit of Paradise (I)
2007
pewter
9.5" diam., 3.25" ht.
Unmatched Pair
2007
pewter
9" diam., 2" ht.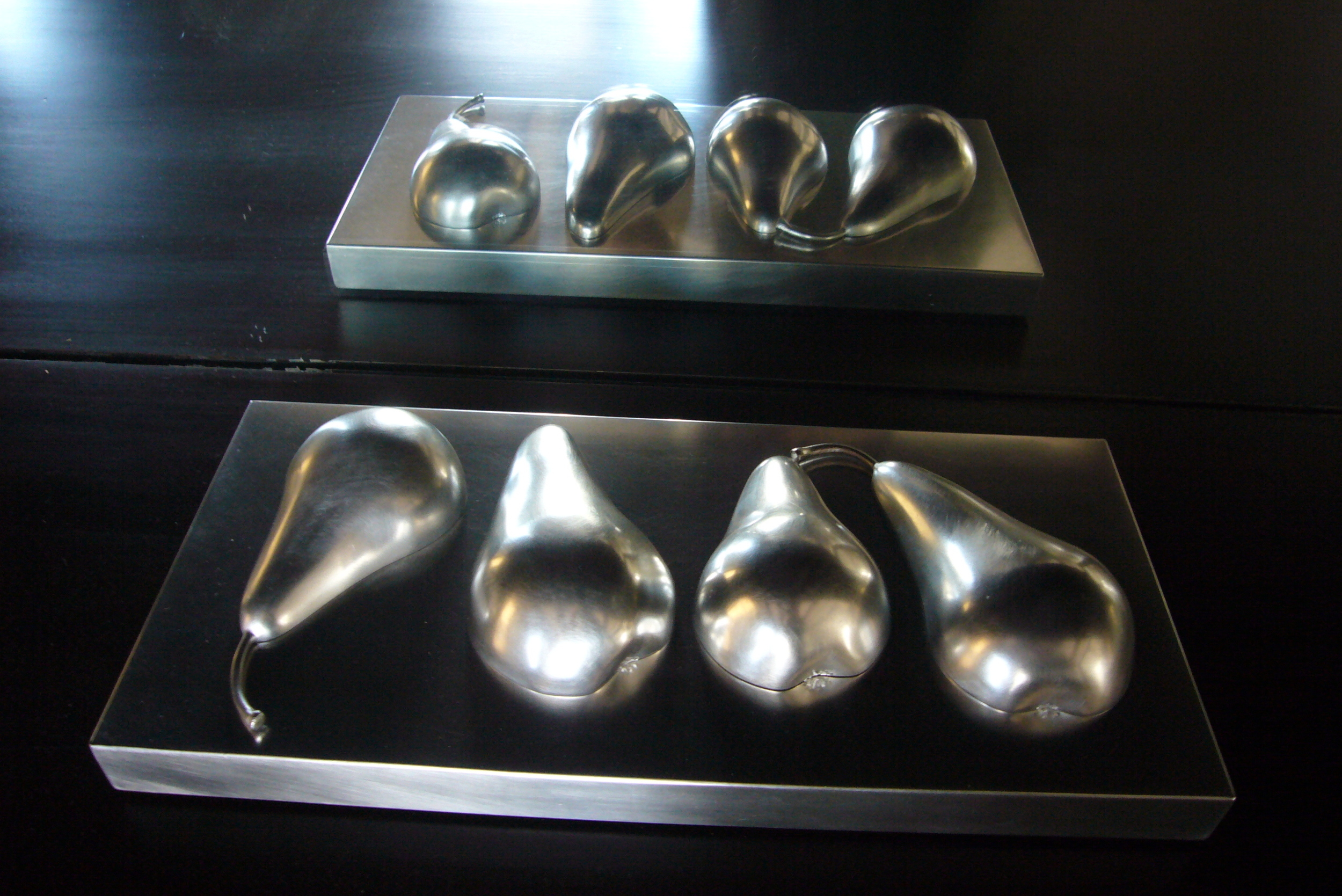 Bowl for Three Mineolas
2007
pewter
8.25" diam., 3.5" ht.
Half a dozen eggs
2007
pewter, wood base with nickel mirror
14" x 4.75" x 2"
Mystery of Science
2007
copper, brass, and glass chemistry vessels, wood shelf, etched glass over mirror, plexy rods.
Shelf size 17" x 20" x 9.75"
Mystery of Science - DETAIL
2007
copper, brass, and glass chemistry vessels, wood shelf, etched glass over mirror, plexy rods.
Shelf size 17" x 20" x 9.75"